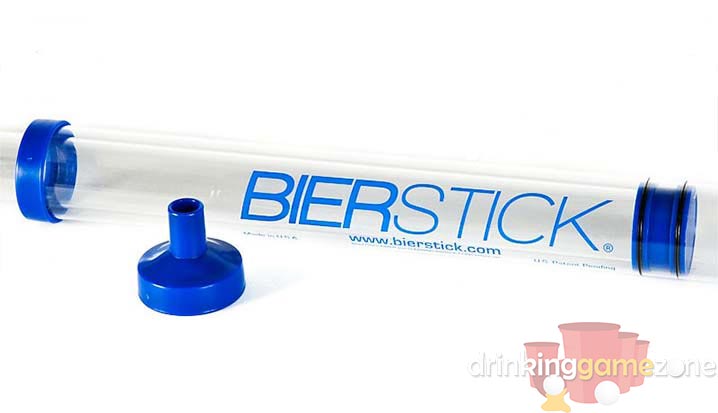 Summary
Beer Stick (or Bierstick) is a product designed for rapidly consuming alcohol as it enables you to easily chug up to 24 ounces at a time almost effortlessly.
Equipment
Setup
Setting up a beer stick is as simple: remove the end cap that you drink out of and fill it with whatever alcohol is to be consumed. Finally, replace the cap and assume whatever position you want to drink it from.
Rules
As Beer Sticking isn't actually a drinking game (although it has the potential to enhance them), it doesn't have rules in the traditional sense. Below are the instructions on how to take a Bierstick, straight from their website:
Remove mouthpiece and fill with your favorite beer (or whatever is laying around
Put mouthpiece back on and push air out of tube (unless you're going for a big belch)
While holding mouthpiece firmly with one hand, place end-cap against wall or other stationary surface and press to drink
I can speak from personal experience when it comes to how easy Beer Sticking makes chugging: It took me 3 tries to shotgun a Joose before I successfully finished one, but I was able to consume an entire one easily on my first try using Bierstick – seriously though.
As always, please remember to drink responsibly! This alcohol drinking game is not meant to lead to you becoming sick due to over-consumption of alcohol. Need a ride? Download Uber or Lyft & get $5 off your first safe, sober ride. If you enjoyed it, please leave feedback in the comments & let us know how we can make it better!