What garden enthusiast doesn't love an adorable planter for indoors or outdoors? Now, what if you could get your hands on a planter made to look exactly like one of your favorite Marvel heroes? I'm talking about Groot, the world's favorite Flora Colossus. From Guardians of the Galaxy to Avengers: Endgame, Groot has captured the hearts of millions. Now, he can house your favorite succulents, flowers, and herbs anywhere in or around your home!
In this post, I'll show you 15 remarkably cute Groot planters that you can use to add a touch of whimsy and delight to any space, as well as where to buy them!
Heart-Hands Groot Flower Planter
A big load of cuteness with a dash of love, this baby Groot planter has his hands folded into a heart shape, which makes his already endearing expression that much more adorable. This plastic, highly-detailed planter is the perfect size for hosting your favorite succulents and other teeny-tiny plant life. Because of his size, this Groot shouldn't hold any plants that will grow very rapidly or grow large.
Hand-Painted Groot Flower Planter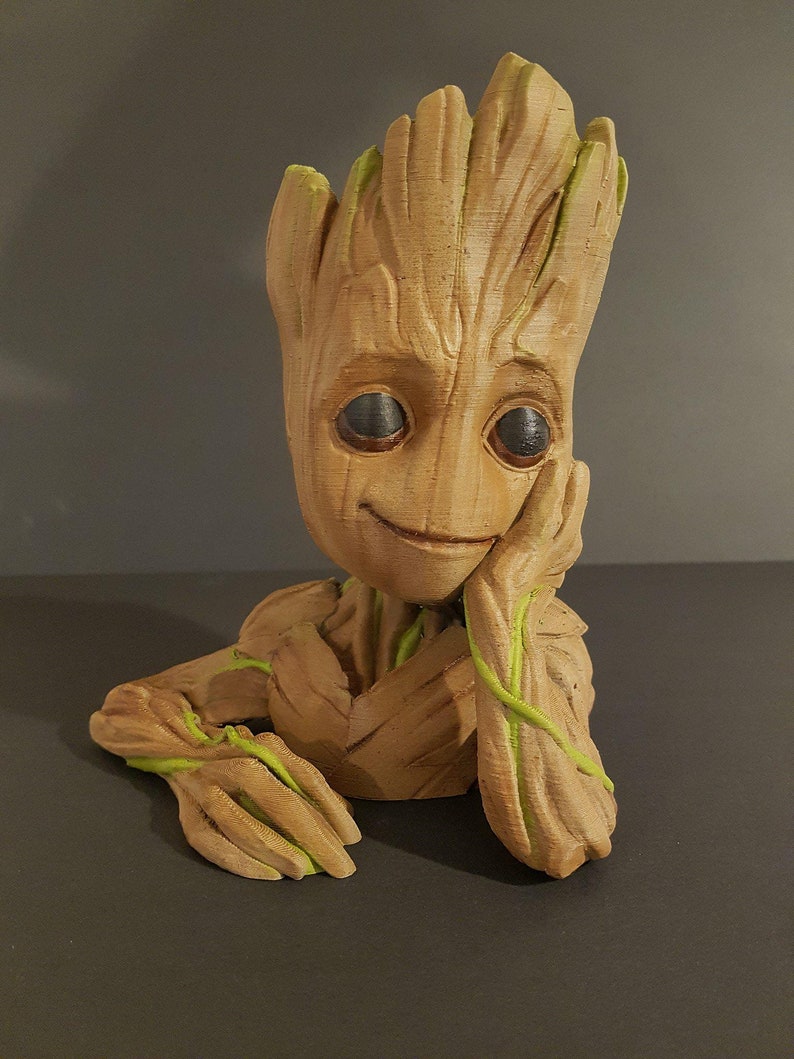 This hand-painted planter from Etsy stands at a total of 7 inches in height, with a pot inside the head that measures at 3 inches in diameter and 4 inches deep. Each planter is made to order, so no two are exactly alike! Still, each one comes with that smile that has delighted Marvel fans since Guardians of the Galaxy Volume 2. Why not get your own one-of-a-kind Groot to keep your favorite succulents and herbs safe and sound?
Uncle Milton's Grow and Glow Groot
This growing kit is a great project for children and parents to enjoy together – it even comes with all of the seeds you need to get started! Inspired by baby Groot dancing inside of his flower pot, this science project-slash-household planter can be reused with other seeds if you choose to switch things up. Groot will look delighted to be thriving alongside any plants of your choice. It doesn't dance, but it does glow in the dark. This is a great addition to any Marvel-loving child's bedroom. Uncle Milton is a leading brand in STEM-based science projects, toys and other educational pursuits for children.
Groot Flower Pot with Baby Bird Nest
This adorable little flower pot features baby Groot gently cradling a tiny bird's nest. Because it's made from PVC rather than cheap plastic, you can rest assured that this Groot planter is built to last. Your small plants will thrive inside Groot's charming little head, thanks in part to the drainage system that allows excess water to escape the pot. The creator of this planter has invested in the details, a fact that makes itself quite apparent as soon as you lay eyes on this beautiful, little planter.
Groot Desktop Planter
Do you want to get the most out of an adorable Groot planter, but you need something a little larger to suit your needs? This desktop planter sold on Mercari offers all of the adorable facial features of this iconic Guardian of the Galaxy but is about double the size (and therefore double the capacity) of most Groot planters you'll see online or anywhere else.
Thoughtful Groot Planter
As Groot ponders the universe, watch as your flowers grow and thrive from the flower pot inside his head. This pure PVC, highly-detailed Groot planter is sure to make an excellent addition to any desktop or tabletop garden. The pot itself is about 3 inches deep, making it a perfect spot to keep your short-rooted plants and succulents on display.
3D Printed Baby Groot Head Planter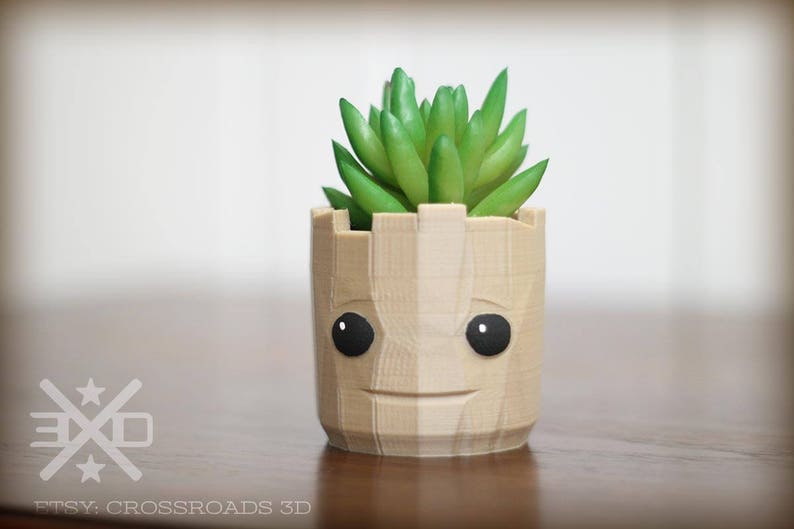 While there is definitely something to be said for the ornate and detail-oriented Groot planters I showed you above, I think there's a certain charm to be found in simplicity. This utterly adorable Groot head is 3D printed and painted to offer a more cartoonish variant on this familiar character. This small planter is great for succulents and air plants.
Joyful Groot Planter
Look at the expression on this little face! Wouldn't you love to have an extremely happy Groot planter on your office desk, or anywhere else? Crafted from PVC and manufactured to be incredibly detailed, this planter is a visually stunning place to put your succulents and cacti. Place this happy, little fella wherever you might need a joyful pick-me-up throughout your day!
Groot Flower Pot with Drainage
One issue that many people run into with cute, novelty planters like Groot planters is drainage. Fortunately, the Groot flower pot by Pinsjar comes equipped with a drainage hole at the base of the flower pot to address this worry. The plastic planter you see here is incredibly sturdy and can be repurposed any number of ways if you ever decide to retire it as a planter!
Baby Groot Flower Pot with Bird Nest v. 2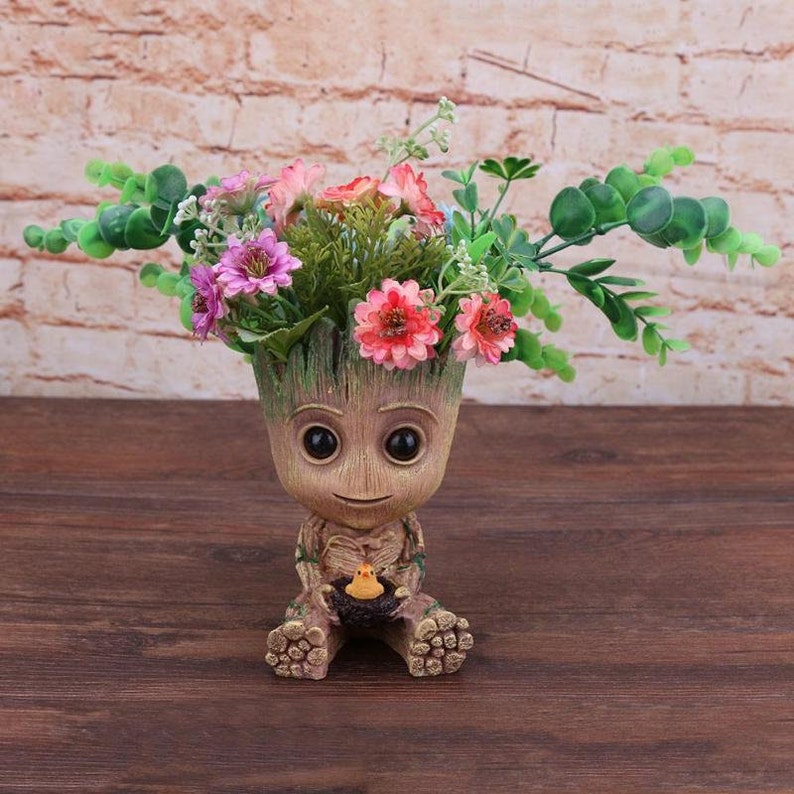 If you're not as keen on the hyper-detailed imagery of baby Groot like the Groot Flower Pot with Baby Bird Nest shown above, this is a great alternative! Great for small plants with short roots, this simplified version of the same design adds a cute touch anywhere you place it. This cute, little planter is handmade out of high-quality PVC, ensuring a long life for you to enjoy with an itty-bitty Groot.
"I am Groot" Flower Pot
The unique, charming Groot flower pot you see here is sure to be the talk of all who see it in your home, on your desk, or anywhere else. While I know that Groot is a serious hero who just happens to have an adorable face and demeanor after Guardians of the Galaxy, why not focus on what is cute about baby Groot? This is a playful way to display your short-rooted plants, succulents and air plants for all to see.
Groot Planter with Yellow Flower
Not only will this detailed, PVC baby Groot safely cradle your beautiful succulents, herbs, and blossoms, he's carrying one of his very own! This fairly sizeable planter stands at 6.3 inches in height and the pot sitting inside of his head has a diameter of 2.6 inches. Compared to other Groot planters on this list, this one is surprisingly roomy. You'll be amazed at how much you can get to thrive inside of baby Groot's little noggin.
Baby Groot Airplant Planter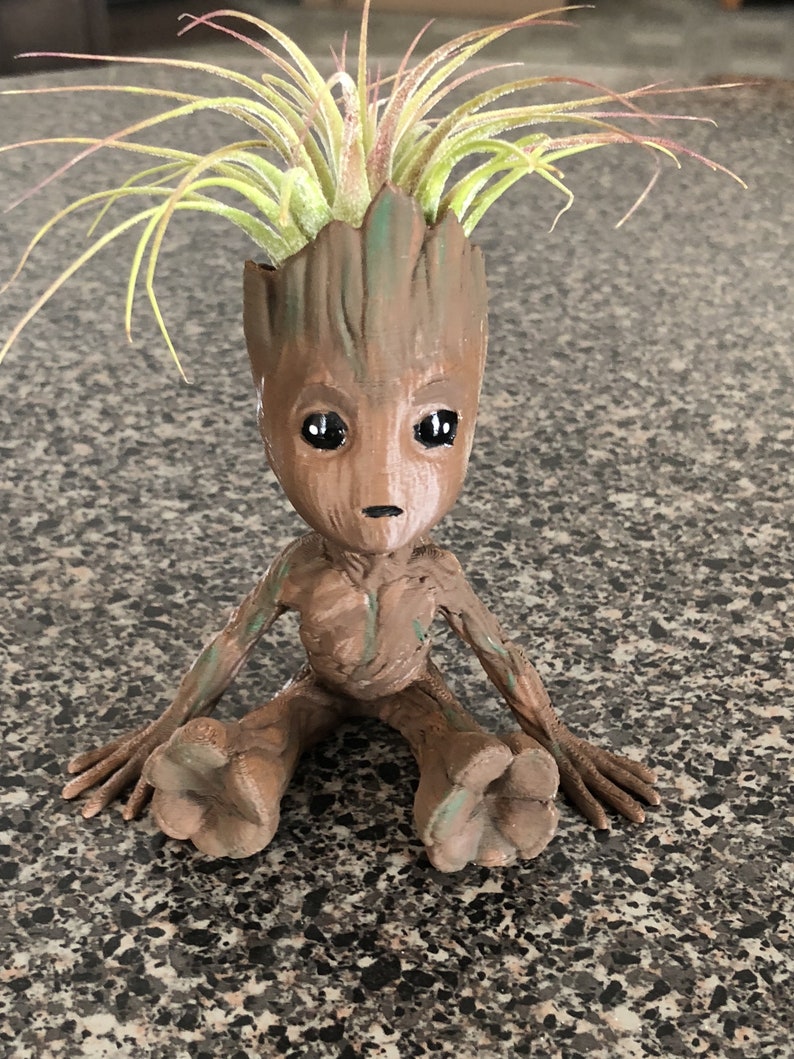 This hand-painted Groot model-slash-planter is a great find for the Marvel lover in your life who also has a fondness of succulents and airplants. It is made of plastic and comes in 4 sizes – 3, 4, 5 or 6 inches in height. If you're looking to use a baby Groot of your own to display your plants, I recommend sticking with the 5 or 6 inch models. You can have it sent to you with an airplant of its very own, or implant one yourself once Groot arrives at your door. There's no going wrong with this adorable, doe-eyed creature.
Baby Groot 3D Printed Planter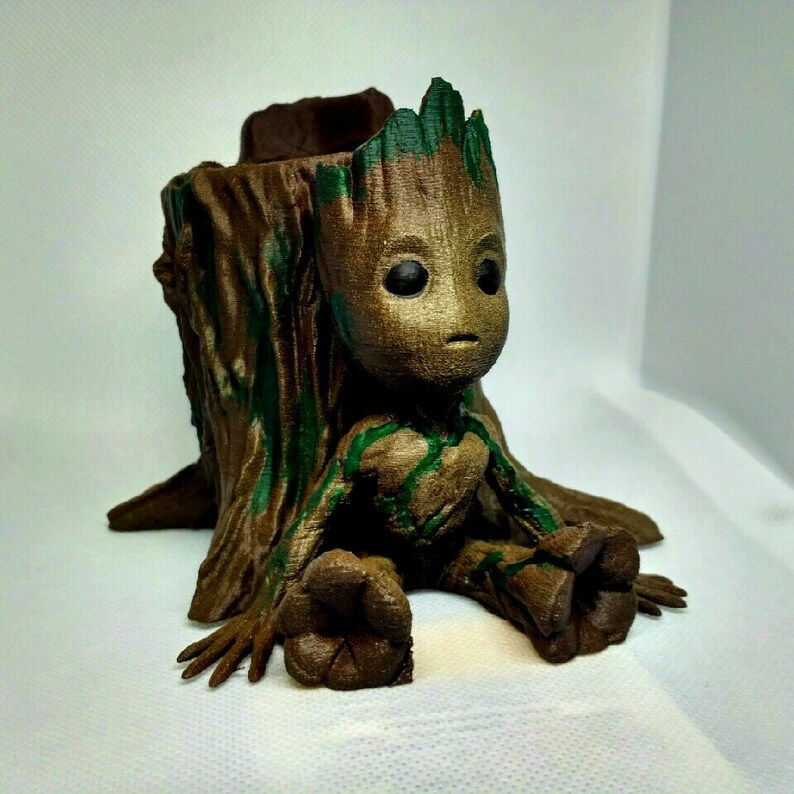 As if it were possible to make Groot look any cuter, this 3D printed Groot planter really ups the adorable ante! Each planter is 3D printed using PLA plastic and is then hand-painted to perfection with beautiful accents of moss green and varying hues of brown. This is a very small planter, but you shouldn't discount it for its size. A single, colorful succulent or blossom can really stand out against the dark contrast of the paint that brings this little Groot to life.
New and Improved Baby Groot Planter
Up here you can see Pafully's revised version of their previous Groot planter model. The planter is still made out of quality PVC, but this one offers greener details and a lighter coloration than most other Groot planters available so far. If you want to add a touch of color, and not just in your plant life, this planter is a great addition to any space. Your plants will be safe and sound within the head of this pensive little Groot, thanks to the drainage hole that safeguards them from overwatering and the root rot it causes.
When you think about it, a Groot planter just makes sense. The Flora Colossus that we've all come to know and love is a symbol of not only nature but of the cycles of birth and the capacity for nearly anything to flourish. These planters are incredibly beautiful, either as simplistic designs or more ornate and detailed creations, and will brighten up any outdoor or indoor space effortlessly. After all, who doesn't love that wide-eyed, smiling face?